Terry has been delighting audiences
with her unique interpretation of belly dance for years. She started with the critically acclaimed Dream Dancers under the tutelage of Deann Adams Eagerly anticipated at festivals like Rakkasah this group accompanied by Light Rain performed at sold out houses like the Oz, Great American Music Hall and Bimbos, all posh nightclubs in S.F. This group transitioned seamlessly in the spring and summer months from cabaret entertainment to an outdoor festival show, touring the West Coast gigging at state and county fairs and at art festivals.
Inspired by these performances Terry continued to work in the finest Middle Eastern dinner houses and nightclubs in S.F. and L.A. with engagements and contracts lasting the life of the club and multiple owners. Her thousands of bookings range from small family gatherings to convention sized weddings!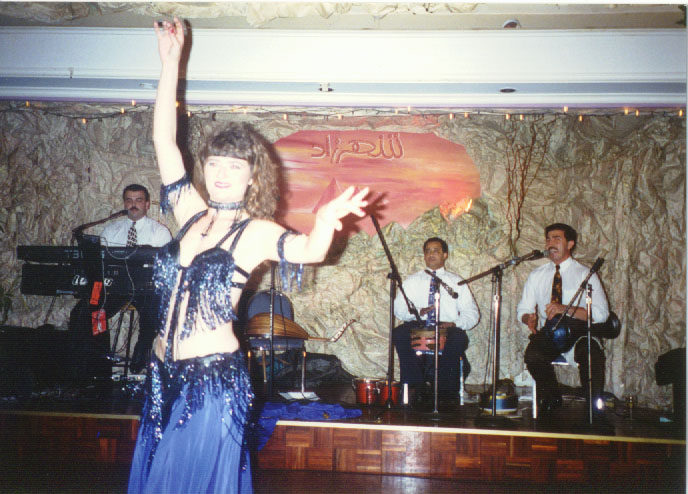 Performing up to five shows a night
at venues as diverse as Red and White Yacht on S.F. Bay to the Bohemian Club.  She was honored to open for some of the leaders of the Arab entertainment world, legends like Sabah, Warda, Shadi Sameel,Wadi el Safi, Sabah Fakri and Nouram Hanna, as well as Contemporary singers like Walid Toufic, George Wassouf and Ragheb Alame. All this while having the pleasure of working regular shows with the finest musicians in the S.F. Bay  area.
Her many years of performance experience in nightclubs for a Middle Eastern audience accompanied by live music serve as platform for her teaching curriculum. Terry teaches multi-level classes in the San Francisco Bay Area, presenting a culturally significant repertoire of dances that support a diverse vocabulary for improvisational exploration for her students.